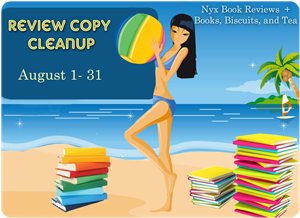 Aaaand the time has come – Review Copy Cleanup has just started! For those of you who have been away or haven't seen the sign up post yet, here's all the info you need. Sign ups are open until August 15 so if you'd like to join in the fun, please do so! Those of you who already did – good luck and have a great time! If you're on Twitter, make sure to use the #RCCleanup hashtag so that we can all see your progress and what everyone else is up to.
My plans for this month
I've been super lazy in the past few months so I hope I'll be able to sit down and get some reading done this time around. My plan is to read the following 6 books but I'd love to be able to squeeze in one or two ebooks as well. We'll see!
The books I'm going to be reading this month are:
Miss Peregrine's Home for Peculiar Children by Ransom Riggs
Debutantes by Cora Harrison
Bereft by Chris Womersley
Breathless by Anne Swärd
The Life of Rebecca Jones by Angharad Price
Call Down Thunder by Daniel Finn
(1801 pages total)
I probably won't do any blog updates this time but I'll post regular updates on Twitter @bookswithacuppa throughout RCC and I'll do a wrap-up post on August 31. Good luck to everyone and see you on Twitter!